Which iPhone to buy in 2022? Our selection of the best Apple smartphones
Update of 01/24/2022 - Our ranking is not changing pending an iPhone SE 3 which could arrive before the summer. If you're looking for a new iPhone, take advantage of the winter sales to save money.
When Steve Jobs launched the first iPhone in 2007, there was only one model you could buy with 4GB or 8GB of storage and in gray. Fourteen years later, Apple is selling eight different iPhone models, four of which were released in 2021. The iPhone is available in a wide range of colors and finishes, and storage options now reach 1TB.
You may find that carriers and third-party sellers offer other older models, such as the iPhone 7. To complicate matters, some iPhones have two cameras, some have three or even four (including the camera). front to front). There's also the fact that almost all current iPhones come with Face ID, but one model - the iPhone SE - has Touch ID. Having lots of options isn't bad, but it can sometimes feel superfluous.
To help you figure out which of these models is the best iPhone for you, we've thoroughly reviewed and tested each of the devices on this list, from their performance to their battery life to their photo part.
But if you're looking for other options outside of Apple's deals, read our guide to finding the best smartphone for your needs and take a look at our advice on how to buy a new phone.
1. The best iPhone for most users
iPhone 13
Patrick Holland/CNET
Retailing at €909, the iPhone 13 represents a solid upgrade and refinement over last year's iPhone 12. Some will be disappointed, as it's not radically different from previous models, but that's actually part of its charm. Familiarity has been one of the keys to the iPhone's success.
The new model has a "square" design almost identical to that of the iPhone 12. The smartphone is compatible with 5G, MagSafe and is equipped with new cameras equivalent to those of the iPhone 12 Pro Max. It also gets a bigger battery which in our tests lasted 4.5 hours longer on a single charge than the iPhone 12. Add to that the A15 Bionic chip, a new Cinematic mode which is basically a video version of the Portrait mode and iOS 15 and you have a great phone.
90 starsRead the Apple iPhone 13 testThe iPhone 13 is Apple's most balanced formula, as was the iPhone 12 last year. The new model monopolizes the strengths of its predecessor while displaying a little more serious autonomy. We can regret the impasse made on the 120 Hz refresh rate reserved for Pro models, but Apple offers us excellent image quality at 60 Hz. This year again, the iPhone is a must have for any consumer looking for of a complete high-end smartphone.
2. The best iPhone right now
iPhone 13 Pro
Patrick Holland/CNET
@ajw545 If read it a little differently. Like if I had opened up it and it said "well, it looks like YOU never need… https://t.co/SZUKwTQFdp

— John Doe Sat Jan 11 22:46:23 +0000 2020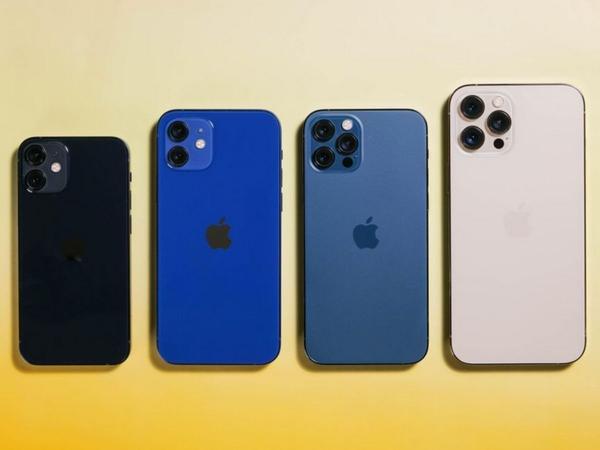 The iPhone 13 Pro is Apple's best phone right now. With the 13 series, there is a real distinction between Pro and non-Pro models, giving the iPhone 13 Pro a high refresh rate display, macro mode, ProRes video recording and best cameras ever used on an iPhone.
In terms of design, the 13 Pro features a sleek matte finish back and shiny stainless steel sides. The 13 Pro's display supports what Apple calls ProMotion. Depending on what is displayed on the screen, the refresh rate goes from 10 to 120 Hz. In use, the screen is superb. Animations are smooth, graphics are crisp, and even mundane things like scrolling through web pages are more enjoyable.
It runs iOS 15, supports 5G and MagSafe charging. Like the normal iPhone 13, the iPhone 13 Pro packs an A15 Bionic chip but gets an extra GPU core that gives the phone a boost for gaming and video editing. In short, it's the best iPhone around.
93 starsRead the test Apple iPhone 13 Proll is not a revolution in itself, the iPhone 13 Pro being in line with its predecessor. But Apple serves us a complete smartphone that is difficult to fault. Too bad its price is higher than that of the Google Pixel 6 Pro which performs in the same areas. Despite everything, the improvements made on the side of the screen, the photo / video part and the autonomy are enough to make it a must have for all regulars of iOS.
3. The best "value for money" iPhone
iPhone 12
Patrick Holland/CNET
By switching to a new generation of iPhone, the previous one automatically becomes cheaper. Discounts are also more frequent, in order to sell off inventory, and performance is very similar with the new model. So, if you want a recent new iPhone at a moderate price, we advise you to turn to an iPhone 12.
The Apple smartphone supports 5G, has a 6.1-inch OLED screen, an A14 Bionic processor, is compatible with MagSafe charging and benefits from Apple's Ceramic Shield coating on the front to reduce scratches and damage. damage caused by falls. And since it has the same square design as the iPhone 13, no one will notice the difference between these two models.
Choosing an iPhone 12 rather than a 13 is also the possibility of taking an iPhone with more storage space for "cheaper". A point not to be overlooked in the age of 4K and increasingly demanding applications.
85 starsRead the Apple iPhone 12 testA new design, an OLED screen, an even more powerful chip, a neat photo part, 5G, the iPhone 12 is on strike. Too bad the storage space of the basic version is only 64 GB.
4. The most affordable iPhone (but with Touch ID rather than Face ID)
iPhone SE 2020
John Kim/CNET
At $489, you might think the only appeal of the iPhone SE (2020) is its price. And admittedly, it's the most affordable iPhone on this list, and it's a big deal too. From the outside, the iPhone SE has the same design as an iPhone 8. It's the only iPhone in this selection to come with Touch ID, which in times of a pandemic is actually a plus, as face masks make using Face ID a frustrating experience.
Inside, the iPhone SE 2020 is also equipped with an A13 chip, which brings a number of improvements to the photo part of 2017. The SE supports 4G and is the only phone mentioned here to sport the design of the first Apple models. But with the ability to run the latest version of iOS, it's still just as relevant. You can also wait until its rumored successor is released.
86 starsRead the Apple iPhone SE (2020) reviewThe iPhone SE (2020) isn't just a great iPhone, it's also one of the best budget smartphones out there. If its design is very close to that of the iPhone 8, inside we find the latest A13 Bionic which equips the iPhone 11. The change goes far beyond a simple modification of the specifications with great progress on the photo part and autonomy.
5. The best compact iPhone
iPhone 13 Mini
Sarah Tew/CNET
Who said small smartphones don't exist anymore? If you are looking for one, there is the iPhone 13 mini which does just as well as the iPhone 13 by being more compact. And don't worry about its battery life, because it has a larger battery than the iPhone 12 mini. It actually ran nearly 3.5 hours longer on a single charge during our test. The device even stayed on for an hour longer than the iPhone 12. In short, it is therefore an excellent choice, especially since it costs less than the iPhone 13.
88 starsRead the Apple iPhone 13 mini testApple is renewing its mini model to the delight of compact smartphone enthusiasts. But is the iPhone 13 mini just a smaller version of the iPhone 13? And should you give in to temptation when you already have an iPhone 12 mini?
6. The most autonomous iPhone
iPhone 13 Pro Max
Sarah Tew/CNET
The first thing you should know about the iPhone 13 Pro Max is that it's one of the most self-contained smartphones on the market. Next, you should know that unlike the 12 Pro and Pro Max, the 13 Pro and Pro Max are identical in pretty much every way and even have the same cameras. In essence, this is the same smartphone, only bigger.
The iPhone 13 Pro Max thus has a 6.7-inch ProMotion screen, compared to 6.1 inches for the 13 Pro. The Max is also bigger and heavier. Some of that extra weight comes from the 13 Pro Max's larger battery. If you can stomach the size of this phone behemoth, it's worth every penny of its hefty price tag.
Apple iPhone 13 Pro Max The iPhone 13 Pro Max is the fastest and largest version of this generation of iPhone. Great novelty, its 6.7-inch screen benefits, like the iPhone 13 Pro, from a 120 Hz refresh rate. The latter is also protected by Apple's Ceramic Shield and the device is IP68 certified for dust and water resistance. The photo part has also been improved and the A15 Bionic chip provides more power.
CNET.com article adapted by CNET France
Featured Image: Patrick Holland/CNET